FEI has launched Open Inventor Medical Edition: The complete 2D/3D toolkit for medical image computing.
02 Jun 2016
Open Inventor® Medical Edition is FEI's new dedicated toolkit for implementing applications with 2D and 3D medical image computing workflows.  Based on the widely used Open Inventor 3D toolkit, this edition provides high-level image visualization, processing and analysis through an object-oriented API.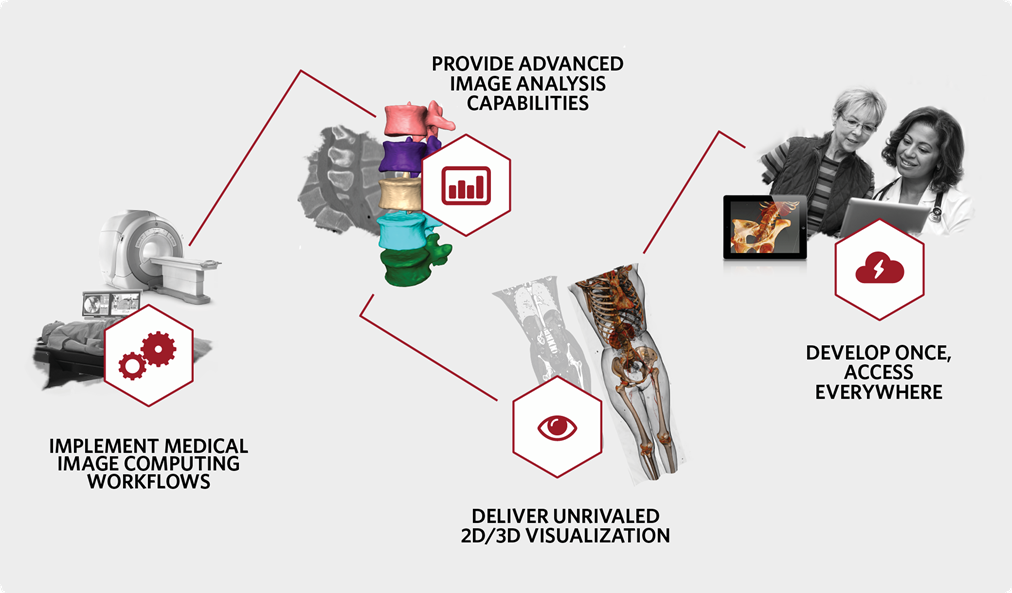 Whether you are an independent software vendor or a hardware vendor, Open Inventor Medical Edition gets your software to market faster, with superior images and performance. Partnering with the visualization experts at FEI means that your in-house developers can focus on their domain specific expertise.
3D rendering is now practical for any application, whether it's a new development or an upgrade, and Open Inventor makes it easy to add this extra dimension. The speed and capacity of graphics processing units (GPU) allow Open Inventor to provide better performance and quality than CPU-based renderers and to seamlessly mix image and volume rendering with geometry including CAD data.
Remote visualization allows your end-users to be at one machine while the application and the 3D rendering run on a rendering server located anywhere on the network or in the cloud. End-users do not need any 3D hardware or client software, just an HTML5-enabled web browser.
Industry leading algorithms for image enhancement, segmentation, analysis and quantification allow your end-users to work faster and smarter than ever before. Segmented objects can be converted to geometry and exported for use with simulation tools and 3D printing.
The Open Inventor Medical Edition SDK includes the complete Open Inventor SDK plus additional specialized content for medical application developers.  This includes an extensive set of medical-oriented example programs that illustrate useful techniques related to image viewing, filtering, segmentation, and more.   Plus a medical utility library that extends Open Inventor with convenient classes including annotation, scale bars, measuring tool, magnifier and more.
Contact us: openinventor@fei.com